So this evening I was watching a classic movie 'Breakin'.  Got me feeling a little nostalgic.  So I figured I could share a little mash up I did for fun.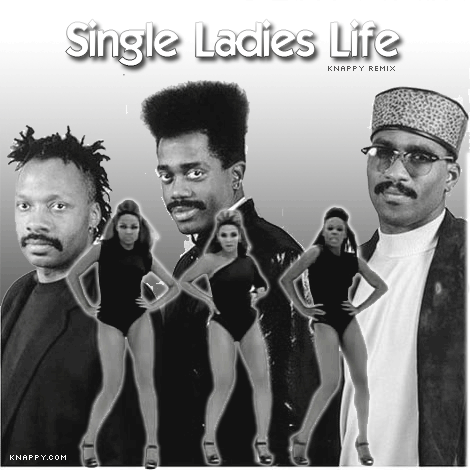 For those that don't know, a mash up is blending two or more different genres of music together to get an interesting mix.  Technically, this could be considered a blend but I had tagged it with the term Mash Up so screw it.  What's done is done. 🙂
When Beyonce's "Single Ladies" came out and before it got over played, I decided to have some fun and mix an old Cameo track "Single Life" with the Beyonce hit.  Clearly this is a retro feel since the drums aren't beefed up and most of the clubs I'm in don't really bump Cameo regularly. Regardless, this is a fun mix.
Process
Creating this mix was an interesting process.  At the time, there was no accappella of  "Single Ladies" available to me.  So I had to make my own.  If you aren't familiar with how to, I'll be adding my tutorial of the process I used for this particular one.
Once I had the accappella, I started selecting the sections from the 12inch mix of Cameo.  I found that there were many great segments to use allowing both the groove and the original Larry Blackman vocals to be incorporated.
A side note: Generally the keys should match.  Many times, people mashing tracks forget that and you're left with an unpleasant result.  Fortunately for me, the keys worked here.
I took the overall track up to the 110 BPM mark to keep the energy with the original track which meant speeding up Beyonce.  I also had to do some creative slicing to make certain chord changes in the bridge work.
Final thoughts
The track starts off with track "enginenumber" from the Engine#9 "Enjoy the Buffet" album (track 9). I did this mix before I started using my signature train whistle audio cue that is in all my newer mixes and used at shows.  Also, this mix was geared for DJs so there is a straight beat intro and outro.  That means it takes a few bars before the track really kicks in.
So here it is. Give it a listen and have some fun being nostalgic.
[audio:http://www.knappy.com/Knappy-SingleLadiesLife.mp3]
Podcast: Play in new window | Download
Subscribe: RSS