Just returned from the DJ Times DJ Expo 2011.  After FINALLY sleeping, I getting around to sharing.  Let em say, the talent that attended was amazing.  Old School, New School, Icons, and up and comers….  they were there.  Some of my favorite DJs dropped in and performed. Wow.
First I have to say the Exhibitors and Sponsors were incredibly gracious and a blast to hang with.  You guys know I use their products religiously but I'll tell you about them any day and how YOU need them if you are a serious DJ.
Promo Only is an incredible DJ pool service.  Have been a subscriber even before I was digital.  Everything for your music and video needs.  Highly recommended.  And they know how to throw an awesome party.  More on that in a few. 🙂
Rane & Serato.  Great down to earth booth and demonstrators.  This product line is simple, straight forward and appeals to me as a vinyl DJ for it's straight forward approach…  And their booth… the same.  No hype, no crazy flashy… straight up real.  Some of the coolest jocks worked there, so check all of them out.
Novation & Ableton, twitch was new and pretty cool.  I love my dicers and launchpads so I say check them out for whatever software you use.  For Serato, it's plug and play.  But works great with Traktor too.
New noteworthy stuff
H2oScreen was pretty nifty.  It's a thin stream of water that has a video stream projected on it.  This product looks great for pool parties and outdoor gigs in the heat.  I have to imagine that you need to keep your electrical away from the water basin.. 🙂  ZAP!
SKB had some pretty cool injected plastic flight cases,  i didn't get one but I'm itching to get one in the near future.  They have configurations that include combination cases for your laptop, mixer, audio cards, etc.  Very nice…  Rob, I'm calling for a show price. 🙂
There weren't as many new products launched at the event.  No real major announcements that excited me but I guess I'll wait to hear about the successor to the Rane TTM-57 and/or Traktor Video.  I'll be posting some information about other noteworthy products shortly.
Entertainment
What would the Expo be without the parties?  What would the parties be without the talent?
So many great events to attend.  From Lil Jon at Mur Mur, BT, Shiftee, Q-Bert, 2ndNature at the Casbah, to the highlight at the House of Blues.  The line-up was extraordinary.  I'd go through all the performances but I honestly missed them from the audience view and could only see from backstage. (thanks PromoOnly for the hospitality!)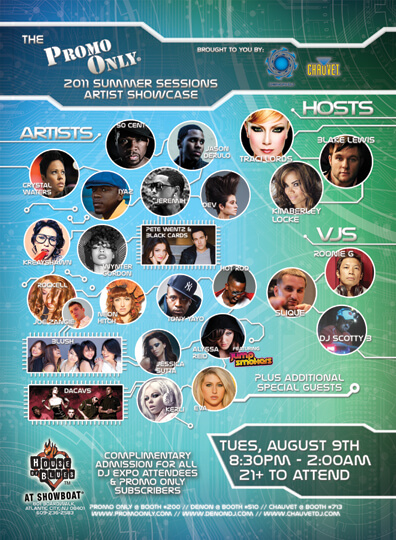 Three incredibly nice hosts kept the party going:  Blake Lewis, Kimberly Locke, and Traci Lords.  I got to chat with all of them.  They are all very down to earth.  I also met an icon who was incredible on stage, Crystal Waters…. awesome!  So many great folks.  I should have snapped more pics but are some that I did get.
Definitely recommend attending next year if you can make it to the east coast.  I haven't missed one in the last 12 years and don't plan on missing any.