So i recently updated my Serato to version 2.1.1 and the first gig following the update was a disaster.  It was bad enough that 4 different times my dance floor grooves were replaced with silence but if you factor in my band mates clapping  and yelling "where did you get that crappy software?"… well you get the idea.  After posting to the Serato forums I felt as if the solution was not really acceptable.  So off I went looking for my own solution.

The issue I had resulted on sudden, unexpected crashes.  The Serato support advised that I re-analyze my collection and delete and corrupt files.  I didn't know how to re-analyze…very cool!  (Just drag the file(s) to the Analyze Files button) .. Thanks, RafaelM!
But alas, the re-analyze process for my Serato collection resulted in crashes after 11+ hours and I was only a third through my tracks. To top it off another 300 files were listed as corrupt that previously were listed as fine.  As I looked at the files I noticed many had a consistent error of "Invalid Audio Data".  Additionally, these files seemed to play fine in Serato (and VLC, and Quicktime).  But I knew if I ignored the advice of tech support, my problem would never get fixed.  As an audio professional, I didn't understand how the content of the audio could be valid but clearly, something was funky.  It was either delete cool mixes from library or get on the research path.  Off I went.
After some research through the web I found a tool that has successfully resolved my "Invalid Audio Data" corruption reported in Serato..  I just had to share.  I would urge Serato and or Native Instruments to include this automatic functionality in their software.  But until then, here's my solution.
Repair Steps
The first step is to download a nifty tool I found on sourceforge.net called MP3Val.  Hey it's FREE!
Windows file can be downloaded here: http://www.gromkov.com/faq/repair/mp3_validator.html
MAC users can get it here: http://triq.net/mac/mp3-validator-mac-os-x
Download and install.
**Edit**  Make sure you download the app not the link to the advertisements…
Now here is the fun stuff.
Open both Serato (or Itch or Traktor, etc.) For this example, I'm using Serato.
1. Make sure you do not have the corrupt file on either deck.
2. Take a look at the corrupt error.  Hover the mouse over the icon and review the error message.

3. Drag the corrupt file(s) over to the mp3Val application.  This is easy if you are now in full screen mode with Serato
4. Scan through the list by clicking the scan button. It's the one with the magnifying glass.
5. You'll get an OK dialog once the scan is finished.  Click it.
6. Note the status column next to each file.  Anything with a Problem status should be repaired.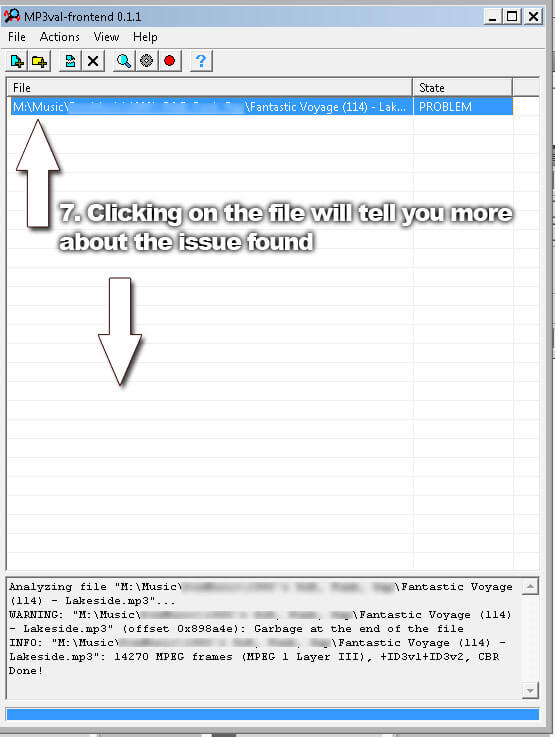 7. If you click on any files in the list you can get more details regarding error.
8. Run the repair function.  It's the little gear icon.
9. Once the repair finishes, click on the OK dialog.
10. Now just reanalyze the track in Serato. (That cool tip of dragging to the Analyze Files button.

Voila! All fixed
The next thing I need to figure out is to repair "This mp3 contains frames with corrupt data" and " This file contains corrupt frames that may result in audible glitches".
Here are the images in gallery format.  Happy fixing!